The Insiders – Clément Mazeries Interview
Payconiq is Luxembourg's leading mobile payment solution. Launched in 2012, it quickly partnered with the six leading banks (BCEE, BGL BNP Paribas, BIL, POST, ING, RAIFFEISEN) that issue the Payconiq-supported apps to their customer base. The company handles merchant affiliation, including Luxembourg's top retailers and bill issuers. Today, the Payconiq-supported apps are known by 85% of the resident (18-65yo) and have become the new normal in digital payments in Luxembourg.
To spotlight the best insights into Payconiq's excellence, we ask a few questions to the inspiring crew behind it.
Today we speak to Clément Mazeries, Head of Compliance at Payconiq International S.A.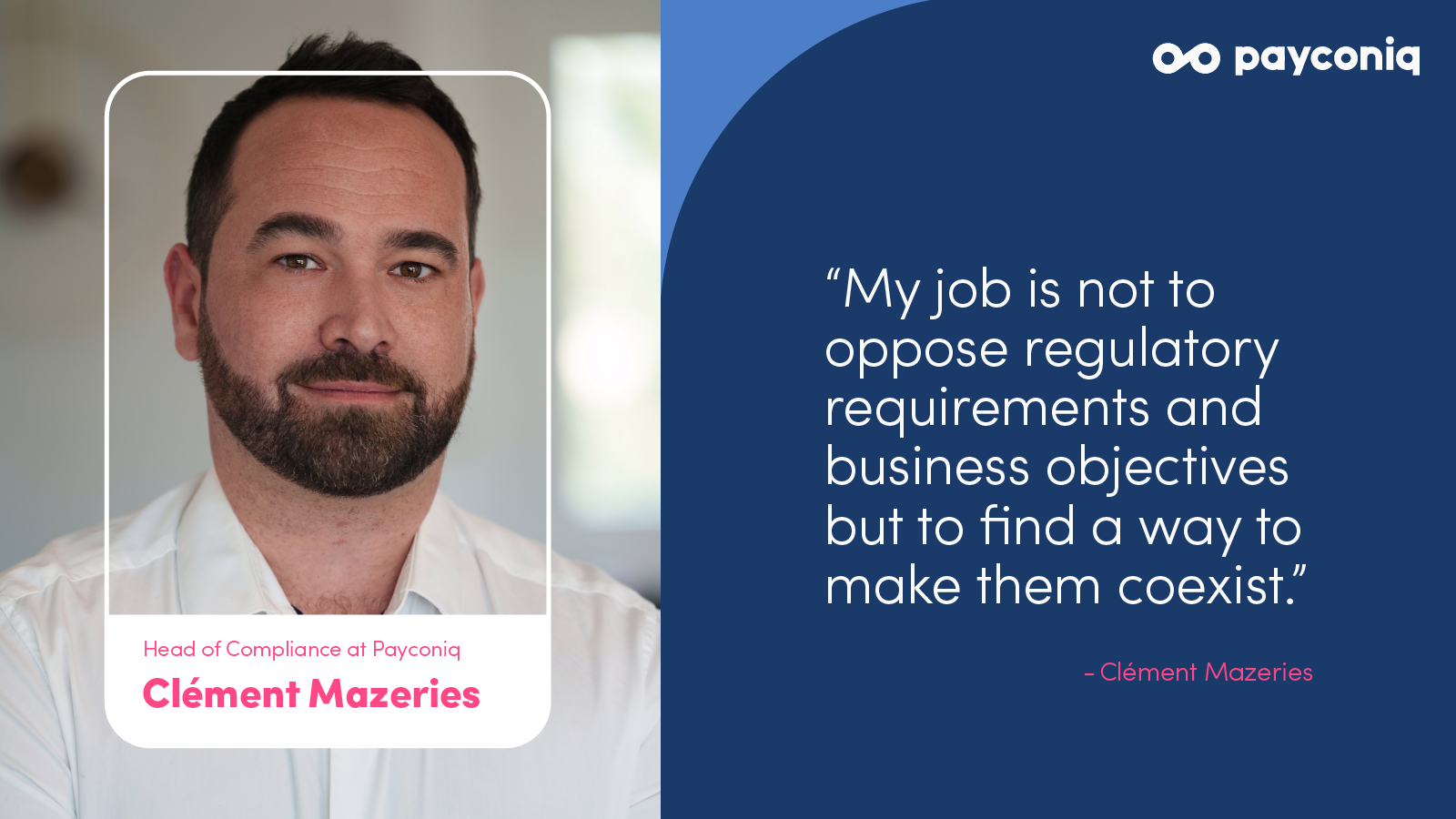 1. Hello Clément, can you tell us more about yourself and your role as Head of Compliance at Payconiq?
I have overseen Compliance at Payconiq for almost two years. Native from France, I arrived in Luxembourg about 9 years ago, already working in the Fintech and e-money environment, where the regulations are similar to those of payment institutions. I have a relatively classic academic background as I studied law and fell into compliance a little by chance. However, as I am evolving in the Fintech field, I quickly got hooked on compliance because it is a job where you touch on many areas and aspects, which allowed to have a relatively global view of all the functions.
The Compliance team at Payconiq has several missions that I can categorize in 4 points:
1. The most critical point is ensuring that Payconiq complies with all the regulations, laws, and industry standards at both Luxembourg and European level. This, of course, means being in compliance with the CSSF, the Luxembourg regulator, but also with European regulation directly applicable and follow European Banking Authority (EBA) guidelines. We must ensure Payconiq is consistently compliant with the applicable framework and adapts to changes and developments in regulations.
2. Compliance is also the primary point of contact for all exchanges with the regulator, including the reports Payconiq needs to submit on periodic basis.
3. The Compliance team's role also consists of maintaining the Anti-Money Laundering (AML) and Counter-Terrorist Financing (CTF) framework within Payconiq and managing risk assessments in relation to AML.
4. We also have exchanges with the FIU (Financial Intelligence Unit), the national authority responsible for receiving and analyzing suspicious transaction reports as we have to prevent, detect, and report any suspicious event to the competent authorities.
As Head of the Compliance department, I support my team on a daily basis and do my best to help them develop their skills and grow in the company.
2. As a leading mobile payment solution, what regulations must Payconiq address and respect?
Payconiq is a mobile payment solution integrated in the apps of our banking partners in Luxembourg. Payconiq International, as a Payment Institution (PI) must comply with all legislation applicable to payment institutions. Two key laws govern payment institutions:
The law of 12 November 2004 on the fight against money laundering ("AML") and counter-terrorist financing ("CTF") to which should be added CSSF Regulation No. 12-02 of 14 December 2012 on the fight against money laundering and terrorist financing. Furthermore, payment institutions and electronic money institutions in Luxembourg are governed by the law of 10 November 2009. These two laws are our basic foundation. The Legal & Compliance departments follow the CSSF newsletter, which allows us to monitor any upcoming changes and facilitates our daily regulatory monitoring watch. This allows us to do a "gap analysis" and to see concretely if there are changes that we need to make.
Each supervised entity is assigned a reference person called the "prudential supervisor."This person is in direct contact with the Authorised Management and the Compliance Officer of Payconiq. They warn us, for example, that a report must be delivered or alert us that a new regulation is on its way. Thanks to this point of contact, we have developed a transparent business relationship with the CSSF. And that's what's exciting.
3. As the Compliance Manager of Payconiq, what are the main challenges you regularly face?

I see two main challenges:
As Head of Compliance I dream, of course, of a perfect world where everything is secure and where all items are anticipated and compliant by the book, but the real big challenge clearly lies in the balance between compliance and business objectives. My job is not to oppose regulatory requirements and business objectives but to find a way to make them coexist. Indeed, within the compliance department, our job is to ensure that regulatory obligations are respected and that there are no loopholes. At the same time, it is key to understand and consider the overall priority of the company, namely, to do business while respecting the compliance requirements.
It would be a mistake to believe that compliance is alone in its corner, hermetically sealed off from business issues. Compliance is in constant contact with key other functions such as risk, finance, legal, the product team and top management.
Depending on the criticality, we evaluate the compliance work that needs to be done in relation to the ambitions and needs of the entire organisation. We have adopted an objective and clear risk-based approach where we draw up a compliance plan over a defined period, and align this plan with the rest of the organisation on a regular basis, considering also their objectives and demands.
The other major challenge is to spread the 'compliance culture' internally with training or getting people to accept the why's and wherefore's of regulation. This day-to-day evangelism work helps to break down the supposed boundaries between compliance and other organizational units of the business. It allows Payconiq to be proactive on compliance topics, which is more efficient and secure.
4. The increasingly instantaneous nature of SEPA payments has pushed credit institutions, or simply put banks, to turn to solutions capable of reacting in real-time. How do you see compliance for instant payments evolving? And how does Payconiq ensure the required capabilities?

This is a fascinating question. Payconiq is not a credit institution, but we are a key link in the value chain of instant payments. The instantaneous nature of payments increases the risk of IT security and resilience, but also raises expectations on fraud monitoring. That is why we have integrated a solution that screens all transactions we process on our platform and traces any danger in real-time so our expert fraud team can take appropriate action.
To sum up, as Head of Compliance at Payconiq, I can say that my job changes a little every day, constantly adapting to the needs of regulations and the business. Like all fintech Payconiq is evolving on a fast pace and Compliance team challenges evolve accordingly.