Empowering online merchants: Payconiq's commitment to E-Commerce excellence
As the world becomes increasingly digital, an online presence is becoming more necessary to develop business and meet customers' needs. The e-commerce market in Luxembourg is no exception to the rule and has experienced consistent growth in recent years. Luxembourg residents are convinced "e-shoppers". Indeed, according to a Eurostat study conducted in 2019, 72% of Luxembourg residents buy online. This puts Luxembourg in 4th place among the countries that buy the most online, behind the UK, Denmark, and Germany.
At Payconiq we fully embrace the world of e-commerce and stand by all merchants, dedicated to offering the most effective solutions for online businesses.
Payconiq provides a seamless payment solution tailored to the needs of online shoppers. By integrating Payconiq on their website or mobile apps, e-commerce businesses can improve their conversion rates as customers no longer have to manually enter their bank card details during each purchase. It empowers their customers to make payments effortlessly using the Payconiq app. This integration optimises the payment process, enhancing speed and convenience for users.
To gain a comprehensive understanding of our services, we engaged in conversations with three clients of Payconiq that are renowned players in the e-commerce industry:
1. WeDely,
2. Restopolis,
3. and CFL
We asked them how Payconiq helps them to deliver a better service.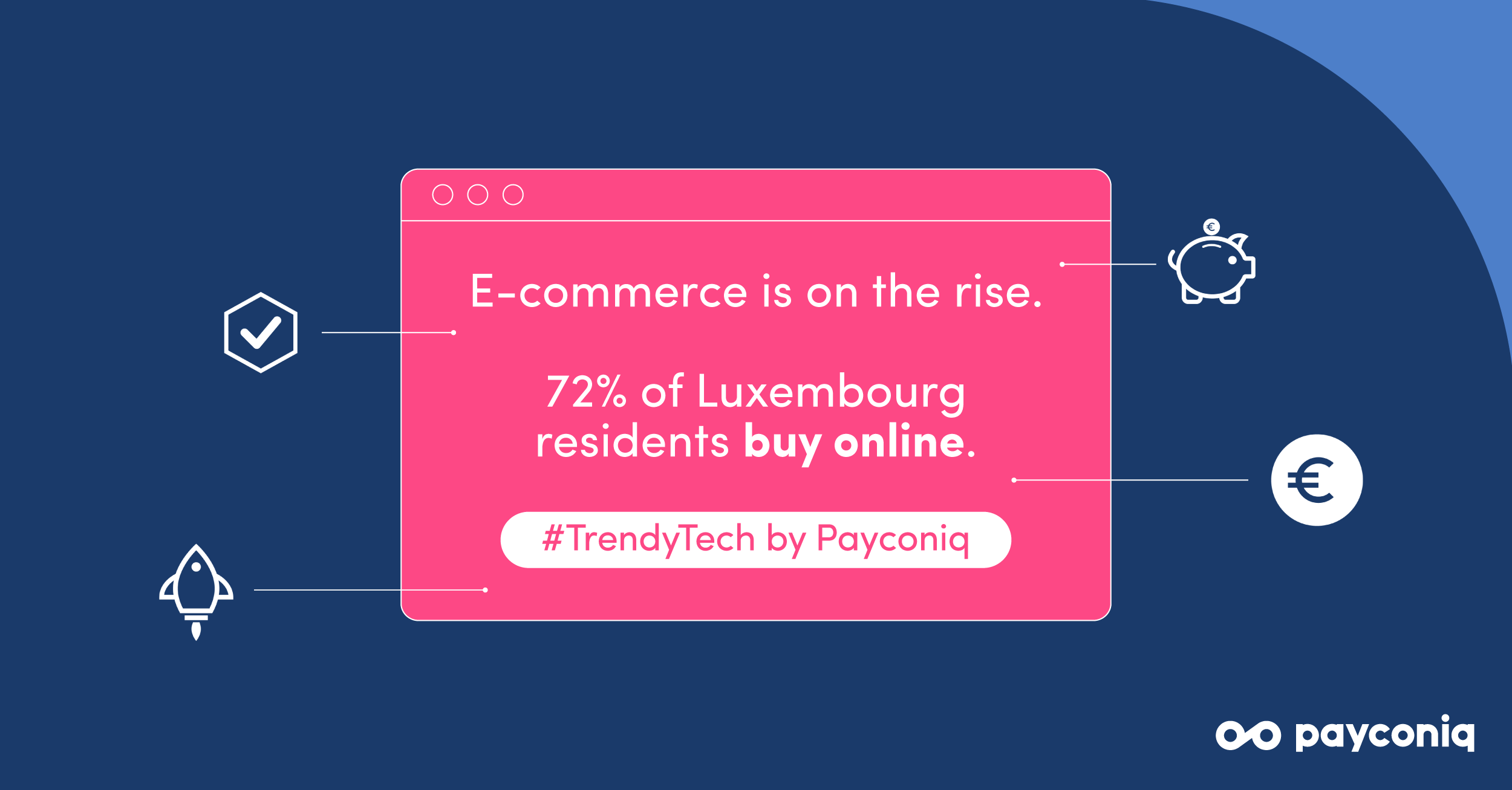 1. Delivering Deliciousness: WeDely – Luxembourg's Premier Food Delivery Service
WeDely is a well-known food delivery service operating in Luxembourg. It provides a platform where users can browse and order food from various restaurants and have it delivered to their desired location. WeDely offers convenience and choice to customers, allowing them to enjoy a wide range of cuisines from the comfort of their homes or offices.
One of the best benefits of online payment for restaurants is how fast and convenient it is. Customers don't need to worry about having enough cash or calling the restaurant to provide their credit card information. As WeDely revolutionises the food delivery experience by providing customers with a seamless and rapid way to order meals directly from the comfort of their homes or offices, the ability to pay for the food using Payconiq technology strengthens the complete hassle-free experience for the customers. With a strong presence in Luxembourg since 2016 and a collaboration with Payconiq since 2019, WeDely is still growing.
Their success stems from developing their proprietary technology platform, which serves Luxembourg City while collaborating with over 500 partners. Interestingly, WeDely experienced a surge in orders during the pandemic, a trend that continues even as the effects of the pandemic wane. This indicates that the food delivery service addresses a pre-existing societal need that was underserved. Moreover, the increased demand for food delivery also coincided with a rise in digital payment requirements.
In fact, WeDely initially observed 20% of clients opting for real-time payments using the Payconiq app. Since the onset of the Covid-19 crisis, this number has grown to an impressive 45%. It means that almost half of their customers are using Payconiq as their preferred payment solution rather than using a credit card.
2. Nourishing Minds: Restopolis – Luxembourg's Dedicated Canteen Card for Students and Teachers
Restopolis, established in 2005, serves as the school and university catering service under the Luxembourg Ministry of National Education, Children and Youth. This service efficiently manages the school canteens of most public secondary schools, along with the canteens located at the Centres pour le Développement Intellectuel, the Esch-Belval, Luxembourg Kirchberg, and Luxembourg-Limpertsberg university campuses.
Furthermore, it oversees the canteen operations at the Ecole de la Police Grand-Ducale, four boarding schools, and six "Daycare" facilities. In 2022, Restopolis employed 600 dedicated individuals who served an average of 17.300 freshly prepared dishes daily, catering to approximately 72,000 customers. Restopolis is committed to providing homemade meals prepared on site by the chefs with fresh ingredients sourced locally and organically. 67% of the products they use come from local production, 17% of the products are local organic.
To enhance the convenience and security of payment, Restopolis has partnered with Payconiq. This collaboration allows Restopolis guests to make quick and easy payments, including the option to pay via smartphone while waiting in line at the restaurant before proceeding to the checkout.
The current statistics undeniably demonstrate the positive impact of the Payconiq integration on both Restopolis and its customers. In 2022 alone, 27,430 guests, including adults and students, took advantage of Payconiq to top up their Restopolis cards. The total number of transactions during this period exceeded 265,000, amounting to 7,560,906 euros. These figures highlight the growing popularity of this convenient payment system among users.
3. Efficient Journeys: CFL – The Luxembourg's National Railway

The Rodange Park and Ride, operated by CFL, stands as the country's third largest park and ride facility, boasting an impressive capacity of nearly 1,600 spaces. Notably, this park and ride offers free access for the initial 24 hours, with the added convenience of ticket validation via the P+R CFL app and payment options including the user-friendly Payconiq mobile application.
CFL's decision to partner with Payconiq was driven by various factors, including its reputation as the leading payment application in Luxembourg, its seamless and paperless process, and its ability to simplify the payment process. By embracing Payconiq, CFL has prioritised the ease of payment for its customers. This integration allows users to utilise an existing payment method on their smartphones, eliminating the need for inputting new information and ensuring a hassle-free experience.
Through collaborative workshops with CFL and its valued customers, it became evident that there was a genuine demand for integrating Payconiq. Notably, the demand also emanated from CFL's dedicated teams involved in innovating and developing customer-centric mobile applications. And the innovation continues. Indeed, on the 8th of June, a new Park and Ride was inaugurated in Mersch equipped with the interface for extended use of the CFL P+R application.
The combination of CFL's Rodange and Mersch Park and Ride and Payconiq's seamless payment solution offers commuters a highly convenient and user-friendly experience, aligning with CFL's commitment to innovation and customer satisfaction.